Hartland's Sunday farmers markets are back and as evidenced by today's turn out they are buzzing, despite of, or perhaps helped by, a very drizzly Sunday morning. I only managed to get to a couple last year but this market is quite a treasure and well worth regular trips. You could even see it as North Devon's version of the London Borough market.
There was lots to try and buy.
Totally new to me was Sabins Artisan Coffee Roasters from Cornwall. I love good coffee and consider the hour long drive from Bideford to Exeter to be pretty much justified by the great coffee served at Devon Coffee. I have often read the quality of coffee deteriorates rapidly after it has been roasted and that obtaining freshly roasted beans is critical to a perfect cup. Well these beans were only roasted a few days ago, so this is my best chance to find out. Sabins had a range of coffees on offer to suit different tastes and were handing out generous sample cups to demonstrate how good their coffee was. The beans you purchased could be ground for you to suit your coffee making method, should you not have a grinder of your own.
Our current home brewed Moka method coffee is quite good, but now I have some rather special beans from Sabins, I am hoping to notch up the quality a bit!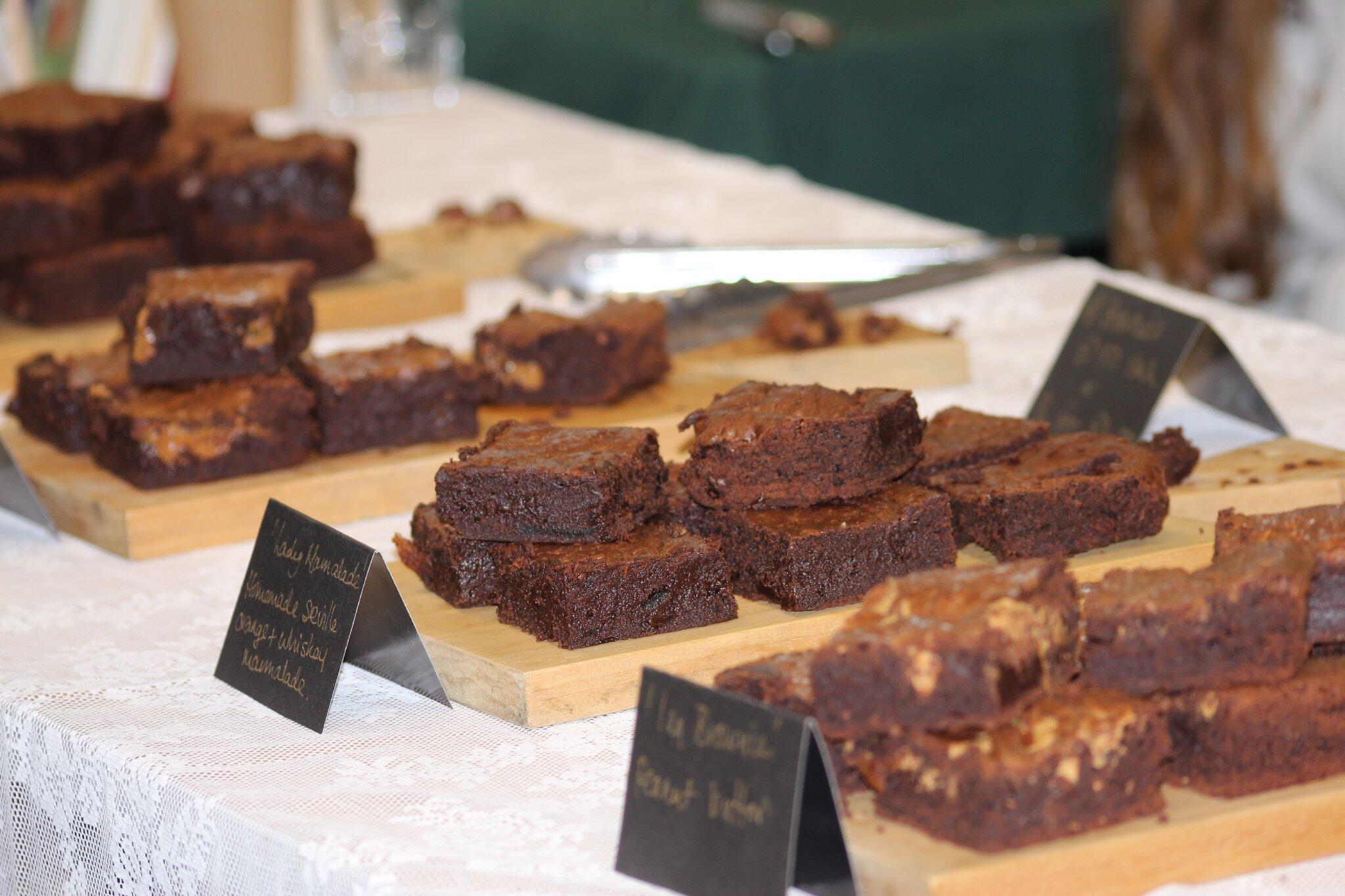 If you were looking for something sweet to enjoy with your coffee you could find yourself in brownie heaven at The Green Brownie stall. There was a range to choose from including an interesting sounding marmalade version. The traditional plain and chocolate chip flavours are in the range as well as chilli and salted caramel. I think I saw the very seasonal cadbury cream egg version on the table too. For more information take a look at their web site:
The Green Brownie
or follow them on Twitter @GreenBrownieBar .
Another sweet treat could be found at Caprine Capers who sell a wide range of chocolates where all the cream used in the confections comes form their own herd of goats. I purchased some of their 'Plain Jane' truffles, a rich and full flavoured chocolate ganache.
If you were looking for some breakfast ingredients there were some rather good sausages to be purchased and we came away with two different sorts of 'plain' pork sausage but there were many flavoured ones to choose from. I have failed to note down the supplier of the chipolata packs but these were very good. Again samples were available to help you choose.
The
Red Dog Bakery
were there with a wide range of sourdough loaves. I chose this fine looking boule which went very well with some cheese for lunch.
If you were shopping for a Sunday roast there was quite a good range of quality meat to choose from and a rather inspiring vegetable stall selling organic produce. I came away with some Rudolph potatoes and a rather gorgeous looking long pepper with which to make some more chilli jam.
There was more on offer including a cheese seller, duck eggs, a range of wild garlic products, and the market organisers put on a cafe serving teas coffees and cooked breakfasts. The event takes place under cover of the village hall and has a lovely community atmosphere. On a brighter day you might make a day of it going for bracing walks or perhaps just adjourn to the local pub.
The market is held on the first Sunday of the month from April to September. Doors open at 10am. To keep up with news on the market follow them on Twitter: @Hartlandfarmkt, and for directions see the
North Devon site
.
The Woolsery WI group have done a write up of their visit here:
what we bought
,where you will see other produce I have not mentioned here.
I am marking the calendar up now to make sure I do not miss the next one.